7HP OHV 210cc Gas Engine Stationary Motor Kit Horizontal Shaft Sprocket Go kart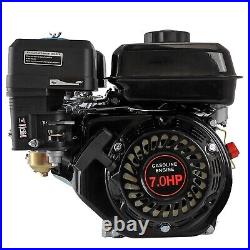 Note: Package includes what you select from the dropdown list. The OHV Horizontal Shaft Gas 7.0 Horsepower Engine Replacement is designed with cast iron cylinders that are durable and can withstand abuse and wear, offering the user years of quality performance. It is made up of gas-saving overhead valves which bring about a cool, clean performance.
100% Brand New Engine type : 4-Stroke single-cylinder Air-cooled. Power Output : 4.2KW/3600rpm Cooling Type : Splash Cooling Type : Force air-Cooled Crankshaft Direction : Clockwise From Flywheel end Fuel Tank Capacity : 3.6L Lube-oil Capacity : 0.6L Consumption Rate of Fuel : 395g/KW. H BoreStroke : 7056 Start Way : Recoil start Compression Ration : 8.5 Ignition System : TCI.