210CC 7HP OHV Gas Engine Motor Horizontal Shaft Fo Go Kart Lawn Mower Garden ATV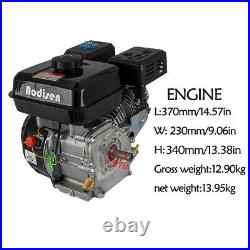 Compressor Scarifier Lawnmower Pump Generator Pressure Washer Gokart Lawnmower Cement Mixer Dust Collector Flail Mower. Brand new 170F 210cc OHV Petrol engine Horizontal Shaft (20mm) Engine Type: 1-cylinder; 4-stroke; Air-cooled; OHV Max. Power Output : 4.2KW/3600rpm Cooling Type: Splash Cooling Type?
Clockwise From Flywheel end Fuel Tank Capacity? 3.6L Lube-oil Capacity:0.6L Consumption Rate of Fuel:395g/KW. H BoreStroke:7056 Displacement:210CC Start Way:Recoil start Compression Ration:8.5 Lgnition Syatem:TCI G. Package includes what you chose from the dropdown menu.